Case of 6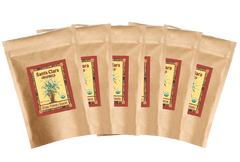 $35.94
INGREDIENTS: 100% Organic Molasses
Santa Clara Organic Molasses Granules are created by the simple evaporation of the juice pressed from the stalks of the sugar cane grass (Saccharum officinarum). It is considered the purest form of extraction from this ancient grass - naturally low glycemic, unbleached and unrefined, with only the moisture evaporated, therefore the vital nutritional elements of the plant - its minerals, amino acids and vitamins, are still present.
Organic molasses granules are collected before the centrifuge process that begins the separation into refined sugar. They are free of the additives typical of making refined sugar, since the first run molasses are not subjected to sulfation, decoloration or chemical filtration. 
Our 100% organic molasses granules retain their whole, pure and natural complex of nutrients and have not been irradiated. This purely delicious sweetener can be used to flavor coffee and tea, for baking and general purpose use.
Wheat and Gluten-free, Dairy and Casein-free, Corn, Soy and Egg-free, Nut and Tree Nut-free, Fish and Shellfish free, Gelatin free, GMO free, VEGAN. No artificial coloring, flavoring, or animal by-products.

Produced in small batches in our dedicated allergen-free facility.