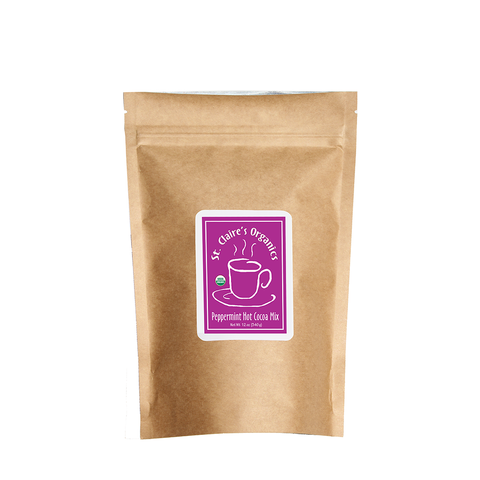 Default Title $35.94
Delightful organic Peppermint Hot Cocoa is the perfect drink for a cool night, camping, an after-school snack, or as a steamy treat. The mix of rich chocolate with peppermint has the impeccable taste of something special, like a Girl Scout Thin Mints cookie (but without the artificial flavor). Wonderful any day of the week and a must-have for winter holiday guests. St. Claire's Organics Hot Cocoa Mix can be blended with water, soymilk, coconut milk, nut milks or dairy milk depending on your personal preference.

Ingredients: Organic molasses granules, organic cocoa powder, organic peppermint essential oil. 100% Organic!

Serving size: 2 tablespoons. 20 servings per container. Only 49 calories and 11 carbohydrates per serving! Directions: Blend 2 tablespoons cocoa mix with 6 oz of hot water. For richer cocoa, substitute creamy liquids such as soymilk, milk, nut milks or coconut milk for water.
St. Claire's Organics is the #1 organic, allergen-free breath mint, candy and herbal lozenge brand since 1994. All our products are made in the USA in a dedicated allergen-free facility. Our products are Certified Organic, Allergen-free, Vegan, GMO-free, Fat-free and are sweetened with nutritious, low-glycemic organic molasses granules. They are gluten-free, dairy-free, casein-free, corn-free, soy-free, egg-free, nut-free, tree nut-free and contain no animal by-products. Our flavors and colors are from fruits, vegetables and herbs. No artificial coloring, flavoring or preservatives. 10% of our profits fund the EthnoMedicine Preservation Project® to preserve the medicinal plant knowledge of indigenous cultures.