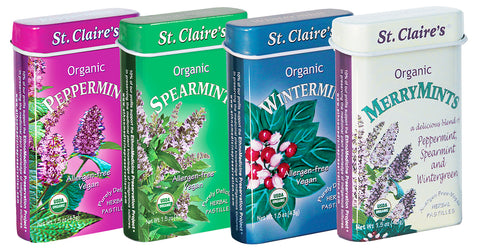 Organic Mints Sampler
Our 4 pack Mints Sampler makes a lovely gift.

These refreshingly cool, deliciously potent mint pastilles are sweetened with organic molasses granules and flavored with organic essential oils.  Each attractive collectible tin contains 45 refreshing moments of 
certified organic, allergen-free, vegan goodness!  


4 pack sampler of 1.5 Ounce tins includes Peppermint, Spearmint, Wintermint, and our new MerryMints.  Get a set for yourself too!




Wheat and Gluten free, Dairy and Casein free, Corn, Soy and Egg free, Nut and Tree Nut free, Fish and Shellfish free, Gelatin free, GMO free, VEGAN. No artificial coloring, flavoring or animal by-products. Manufactured in our dedicated allergen-free facility.