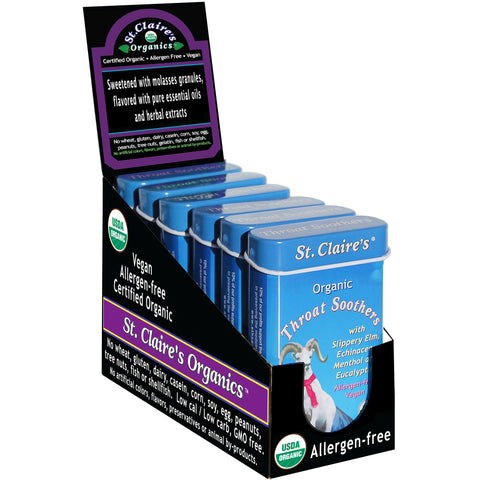 Organic Throat Soothers - 6 Pack (1.5 oz. Tins)
Nature's Herbal Remedy for sore, scratchy throats.*
Ingredients: Organic molasses granules, organic slippery elm powder, organic licorice root powder, menthol, organic eucalyptus essential oil, organic echinacea, oshá and capsicum extracts.
*These statements have not been evaluated by the Food and Drug Administration. This product is not intended to diagnose, treat, cure, or prevent any disease.

Wheat and Gluten free, Dairy and Casein free, Corn, Soy and Egg free, Nut and Tree Nut free, Fish and Shellfish free, Gelatin free, GMO free, VEGAN. No artificial coloring, flavoring or animal by-products. Manufactured in our dedicated allergen-free facility.