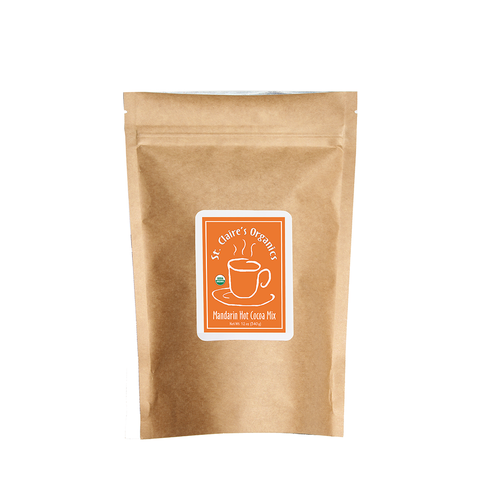 Mandarin Hot Cocoa Mix (Net Weight - 12 oz.)
Delightful organic Mandarin Hot Cocoa is the perfect drink for a cool night, camping, an after-school snack, or as a steamy treat. This selection is a rich chocolate with the flavor of Mandarin Orange and tastes similar to chocolate-covered oranges. St. Claire's Organics Hot Cocoa Mix can be blended with water, soymilk, coconut milk, nut milks or dairy milk depending on your personal preference.

Ingredients: Organic molasses granules, organic cocoa powder, organic tangerine essential oil. 100% Organic!

Serving size: 2 tablespoons. 20 servings per container. Only 49 calories and 11 carbohydrates per serving! Directions: Blend 2 tablespoons cocoa mix with 6 oz of hot water. For richer cocoa, substitute creamy liquids such as soymilk, milk, nut milks or coconut milk for water.
St. Claire's Organics is the #1 organic, allergen-free breath mint, candy and herbal lozenge brand since 1994. All our products are made in the USA and Certified Organic, GMO-free, Vegan, Fat-free, Low-glycemic, and Allergen-free. They contain NO gluten, dairy, casein, corn, soy, egg, nuts or tree nuts, fish, shellfish or animal by-products. Flavors and colors are from fruits, vegetables and herbs--no artificial colors or flavors. Ten percent of profits fund the EthnoMedicine Preservation Project to preserve indigenous medicinal plant knowledge.

Wheat and Gluten free, Dairy and Casein free, Corn, Soy and Egg free, Nut and Tree Nut free, Fish and Shellfish free, Gelatin free, GMO free, VEGAN. No artificial coloring, flavoring or animal by-products. Manufactured in our dedicated allergen-free facility.