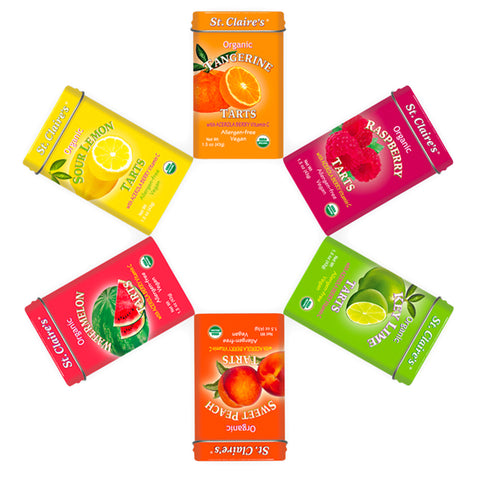 Six Pack Sampler: Organic Fruit Tarts with Vitamin C
St. Claire's Organic Fruit Tarts with Acerola Berry Vitamin C are mouth-watering organic candies! Sweetened with low-glycemic organic molasses granules and flavored with organic essential oils and fruit extracts. Packaged in attractive collectible tins with inspirational quotes printed on the side and offered here as an ASSORTED 6 pack of 1.5 Ounce tins. (Includes Key Lime, Raspberry, Sour Lemon, Sweet Peach, Tangerine and Watermelon).

Wheat and Gluten free, Dairy and Casein free, Corn, Soy and Egg free, Nut and Tree Nut free, Fish and Shellfish free, Gelatin free, GMO free, VEGAN. No artificial coloring, flavoring or animal by-products. Manufactured in our dedicated allergen-free facility.